What Down Payment Do You Need For An FHA Vs Conventional Loan?
June 9, 2023, 2:00 AM EDT
4 MIN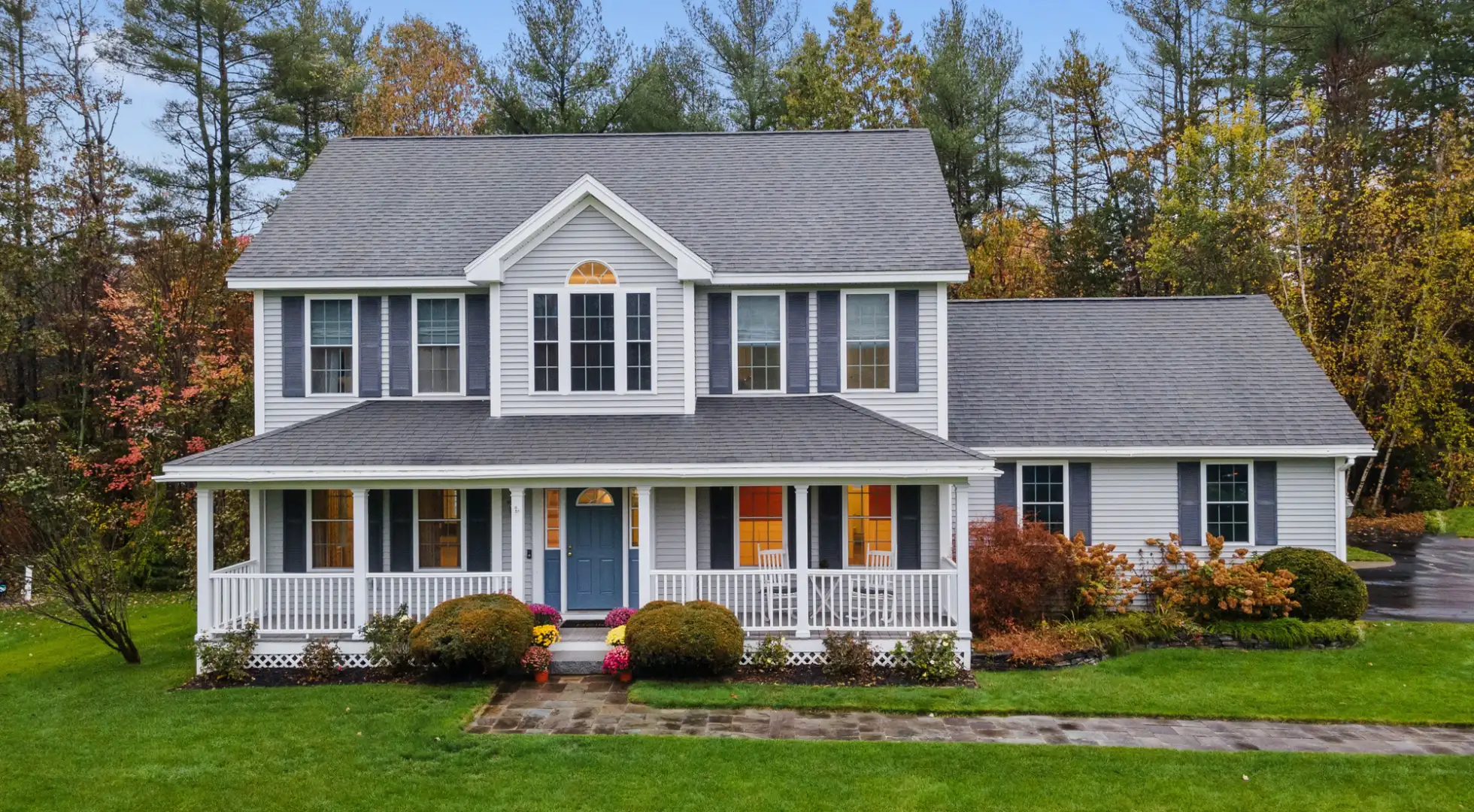 Minimum down payments for FHA and conventional loans are as follows.
FHA: 3.5% of the home price
Conventional: 3% of the home price
However, not everyone will qualify for the conventional loan 3%-down option. Let's see why FHA might be the better option for a low down payment.

Restrictions for 3%-Down Conventional Loans And Why FHA Might Be Better
Following are a few "gotchas" when it comes to 3% down conventional loans.
First-time homebuyer requirement: To qualify for a 3%-down conventional loan, you must be a first-time homebuyer. If you have owned a home in the last three years, you need 5% down.
Income limits: Some conventional loans such as Freddie Mac Home Possible® and Fannie Mae HomeReady® require you to make 80% or less of your area's median income.
Credit score and debt-to-income ratio (DTI): Generally, you'll need better credit and a lower debt-to-income ratio to qualify for 3% down.
FHA is more lenient about many of these areas.
You don't need to be a first-time buyer

No income limits

More lenient on credit score and DTI

Mortgage insurance is usually more affordable
And, the down payment requirement is just 0.5% higher than for a conventional loan.

If You're Considering A 3% Down Conventional Loan, Try For 5%
Conventional loans are quite restrictive and expensive when putting just 3% down. If you can swing it, put 5% down instead.

There are no income limits or first-time buyer requirements with 5% down. Additionally, your monthly costs will drop.
Here's a comparison for someone with a 720 credit score buying a $350,000 home.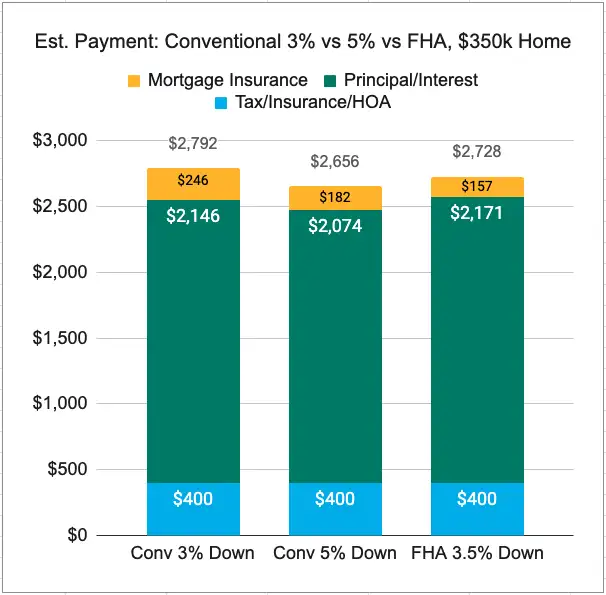 | | | | |
| --- | --- | --- | --- |
| | Conventional 3% Down | Conventional 5% Down | FHA |
| Principal and Interest Payment | $2,146 | $2,074 | $2,171 |
| Mortgage Insurance | $246 | $182 | $157 |
| Tax/Insurance/HOA | $400 | $400 | $400 |
| Total Payment | $2,792 | $2,656 | $2,728 |
Mortgage insurance rates from MGIC. Example rates: Conventional 3% down at 6.5% and conventional 5% down at 6.375%. FHA loan at 6.5%. All 30-year fixed with standard mortgage insurance for the program. All figures are for example purposes only and may not be available.
When you apply for a home loan, always compare FHA and conventional loan costs side-by-side.

How To Pay For Your FHA or Conventional Down Payment
Both FHA and conventional loans allow you to pay for your entire down payment from various sources.
Gift funds: A relative can give you a down payment gift.
Down payment assistance: Down payment assistance programs from the government and other approved sources can contribute funds to cover your entire down payment.
401(k) loan: Borrow from your retirement savings. Some accounts let you withdraw retirement fund without the typical tax penalties if you use it to buy your first home.
Crypto: If you can document 60 days of cryptocurrency ownership, and you've converted it to U.S. dollars, you can use crypto proceeds to fund your down payment. In fact, about 12% of first-time buyers used this method as of late 2021.
Down Payments: Low For Both Programs
Gone are the days when you needed 20% down to buy a home. Unfortunately, many first-time buyers still believe this is the minimum down payment.
Don't save for years just to discover you could have become homeowners much sooner.
Whether you choose conventional or FHA, you can get into a home for much less money upfront than you think.

About The Author:
Tim Lucas spent 11 years in the mortgage industry and now leverages that real-world knowledge to give consumers reliable, actionable advice. Tim has been featured in national publications such as Time, U.S. News, MSN, The Mortgage Reports, My Mortgage Insider, and more.