FHA Loans: The Comprehensive Guide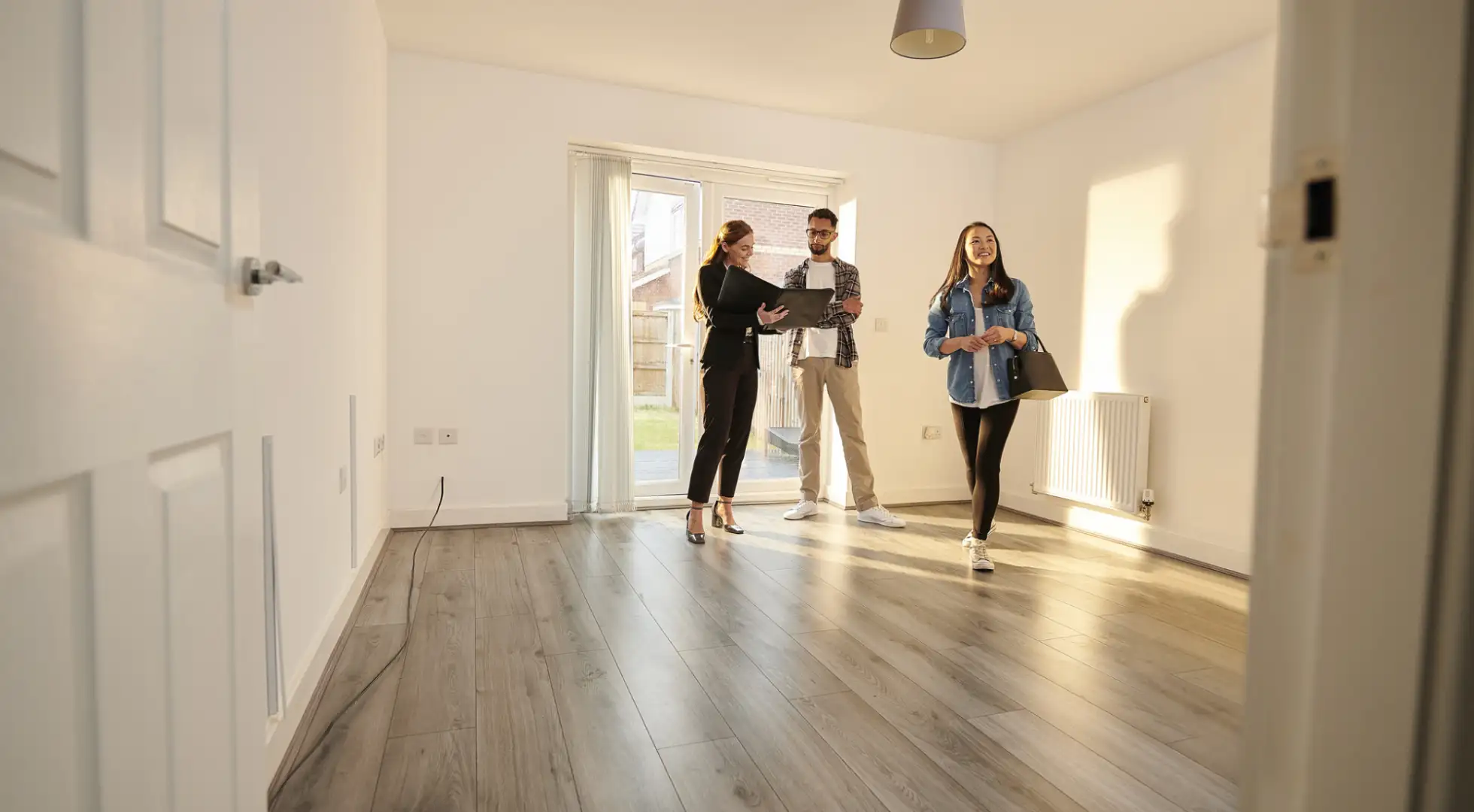 The FHA loan is a type of government-backed home mortgage insured by the FHA, aka the "Federal Housing Administration." The FHA designed this program for borrowers who may be unable to make a sizeable down payment or meet conventional credit and income requirements.
FHA loans are popular with first-time homebuyers and other budget-oriented borrowers for their less stringent credit requirements and low 3.5% down payment.
Let's look at the big questions behind FHA loans- like how they work, why you might use one, and ways to ensure that you're approved when applying for an FHA loan.
How FHA Loans Work
The Federal Housing Administration doesn't actually lend money to borrowers. You'll need to go through an FHA-approved lender to obtain an FHA loan. They will evaluate your creditworthiness and make sure you can afford the loan.
The FHA's role in the process is to provide insurance to lenders in case the borrower defaults on the loan. The insurance or backing encourages lenders to be more lenient when approving an FHA loan because they know they have padding to fall back on if a borrower defaults.
FHA Loan Benefits
There are several benefits of getting an FHA loan:
You can get approved with a lower credit score, sometimes as low as 500-580, though most lenders want to see a 620 or higher.
You only need 3.5% for a down payment.
FHA loans are available for purchases and refinances.
FHA loans have more flexible income and debt requirements.
FHA Loan Disadvantages
There are also some disadvantages to getting an FHA loan. First, FHA loans come with an upfront fee and a monthly mortgage insurance premium (MIP). The MIP stays with the loan until it is paid off or refinanced.

Additionally, FHA loans can also have higher interest rates than conventional loans, and you may be limited to certain property types. For example, FHA loans are for your primary residence, so you must live in the property you purchase.
FHA Loan Requirements
To qualify for an FHA loan, borrowers need to meet several requirements.
The home you're hoping to purchase or refinance has to be appraised by an FHA-approved appraiser.
FHA loans are only available for primary residences, meaning no investment properties or second homes.
The borrower has to occupy the property within 60 days of your closing date.
A licensed inspector has to examine the property and determine whether or not the property meets minimum federal property standards.
There are several other specific conditions borrowers need to meet to qualify, including the down payment, mortgage insurance premiums or "MIP," minimum credit score, income requirements, and loan limits. We'll look at these factors in more detail below.
FHA Loan Credit Score Requirements
The FHA sets the credit score requirement for an FHA loan at 580. Borrowers with credit scores between 500 and 579 may still qualify for an FHA loan if they can place a higher down payment of at least 10% of the purchase price.
Keep in mind that every mortgage lender has different minimum score requirements. 580 and 500, respectively, are FHA requirements, and the FHA allows lenders to set their own guidelines above that minimum, known as a lender overlay. Most lenders generally require a 620 credit score for FHA financing.
FHA DTI Requirements
Borrowers typically need a DTI or "debt-to-income" ratio of 43% (or less) to qualify for an FHA loan. However, some FHA applicants may gain approval with a higher DTI if other compensating factors exist. Compensating factors can include savings and cash reserves, stable and long-term employment, residual or additional income, or a higher credit score.
FHA Loan Down Payment Requirements
As we mentioned, you need a down payment of at least 3.5% of the home's sales price to qualify for an FHA loan. For example, a $400,000 home requires a $14,000 down payment. In some situations, the FHA will calculate the down payment on the home's appraised value if the appraised value is lower than the sales price.
3.5% of a home's value is not pocket change, but it's still substantially lower than the 5-20% down payment required for a conventional loan backed by Freddie Mac or Fannie Mae. Borrowers are responsible for supplying the full down payment from their own funds unless otherwise approved by the lender.

Family-type donors can also help borrowers with the down payment for an FHA home, as long as they are not a party to the transaction. That means your family and friends can help borrowers with a down payment, not their real estate agent, broker, loan officer, or other parties with a direct financial interest in the deal.

FHA Loan Mortgage Insurance Requirements
You must pay mortgage insurance premiums if you're buying a home with an FHA loan. MIP protects the lender if you default on the loan.
FHA borrowers pay mortgage insurance in two ways:

Upfront: When you close on your new home, you'll pay a one-time premium (usually around 1.75% of the loan amount) for mortgage insurance.
Annual: You'll also pay a yearly premium, split into 12 payments and added to your monthly mortgage payment.
Typically, FHA borrowers will pay an upfront premium equal to 1.75% of the loan amount at closing. They'll also pay somewhere between 0.45% and 1.05% annually over the life of the mortgage loan.

Borrowers that put down at least a 10% down payment will only need to pay mortgage insurance premiums for 11 years. Those who choose to put less than 10% down- like someone utilizing the 3.5% minimum- will pay MIP over the loan's entire life.

FHA Loan Property Requirements
When getting approved for an FHA loan, you must meet specific property requirements for the loan to be approved. The Federal Housing Administration sets these standards, and they exist to protect both the borrower and the lender.
One of the most important requirements is that the property must be safe and habitable. Safe and habitable means the property must have running water, electricity, and a roof in good condition. The property must also be free of any hazardous materials, such as lead paint.
Another important requirement is the property must appraise at or greater than the loan amount. This requirement protects both the borrower and lender and keeps the borrower from being underwater before taking ownership.
Finally, the borrower must insure the property. This requirement also protects the borrower and lender if the property is damaged or destroyed. The borrower is responsible for paying the homeowner's insurance policy premium.
FHA Loan Limits
FHA loan limits restrict the size of mortgages guaranteed by the agency and differ depending on the property's location. Property type also plays a role in FHA loan limits, with higher limits for duplexes, triplexes, and 4-family properties.
FHA loan limits generally get calculated as a percentage of the median home price in the county. For example, the 2022 limit for a single-family home in Alameda County, California, is $970,800, while the limit in Buford County, Alabama, is $420,680.
You can search for a given county's FHA loan limits via the official HUD FHA Mortgage Limit Database here.
Types of FHA Loans
The FHA offers a handful of mortgage types, including FHA Home Purchase Loans, FHA Streamline Refinances, FHA Cash-Out Refinances, FHA EEM (Energy Efficient Mortgage) and the FHA 203k. Each loan type offers different guidelines and restrictions.
Let's look at each FHA loan type in a little more detail.
FHA Home Purchase Loan
Purchase loans are the most common FHA loan type and probably the one you're picturing right now. First-time and low-income homebuyers often utilize FHA loans because of their lower down payments (3.5%) and lower credit score requirements (500+).
Due to their backing by the federal government, FHA loans come with various rules and restrictions, including a 90-day cooldown period and the requirement that the borrower lives in the home as their primary residence.

FHA Streamline Refinance
An FHA Streamline is a refinance product that allows you to refinance your current FHA loan into another FHA loan with a lower rate and monthly payment. As the name infers, the process is simpler due to going from one FHA product to another.
There are two key requirements for borrowers seeking to qualify for an FHA Streamline refinance:
The borrower must have made at least six months of timely mortgage payments on their existing FHA loan.
The borrower must demonstrate a "net tangible benefit" from refinancing. The new loan must offer lower monthly payments, a lower interest rate, or both. The net tangible benefit must be clearly documented for the borrower to qualify for the FHA Streamline refinance.
FHA Cash-Out Refinance
An FHA cash-out refinance is a type of FHA loan that allows you to cash out equity value from your home. You can use the cash to make home improvements, pay for major expenses, consolidate debt and so on.
To be eligible for an FHA cash-out refinance, you must have lived in your home for at least 12 months and have at least 20% equity in your home. You will also need to meet the lender's credit and income requirements.
You do not need to currently have an FHA loan on your property to get an FHA cash-out to refinance, which is good news for those with conventional or private loans not insured by the FHA.
FHA Energy-Efficient Mortgage (EEM)
An FHA Energy-Efficient Mortgage is a special type of mortgage that allows borrowers to finance the cost of energy-efficient home improvements into their mortgage. The most common type of energy-efficient home improvement is insulation. Still, other energy-saving improvements, such as windows, doors, and heating and cooling systems, can also be financed with an EEM.
Homebuyers can use an EEM to finance the cost of energy-efficient improvements into their mortgage, up to a maximum of 5% of the home's value. Homeowners can use an EEM to finance the cost of energy-efficient improvements up to a maximum of $4,000.
FHA 203k
An FHA 203k loan is a mortgage loan that allows you to purchase a property needing repairs or renovations and include the costs in the mortgage. With a 203k, borrowers must complete renovations within 6 months of closing.
The 203k loan is an FHA loan, so it will have the same eligibility requirements as a regular FHA loan. You will need a credit score of at least 580 and a down payment of at least 3.5%. If you have a credit score of 500-579, you may still be eligible for the loan but will need a down payment of at least 10%.
Again, credit score requirements vary by lender. It's typical for lenders to expect a 620, and not uncommon for that mark to be even higher.
How to Get an FHA Loan
Follow these steps to get an FHA loan.

Find a FHA lender.
All FHA lenders aren't the same. Different lenders offer a wide range of loan terms, so make sure to comparison shop to ensure you're able to get approved and get the best FHA loan terms possible.
Submit an FHA loan application and get preapproved.
After landing on a lender, complete an FHA loan application. You'll need your financial information close at hand, including your W2s, recent pay stubs, bank statements and other documentation.
During the application process, the lender will seek your permission to verify your credit score with a hard pull. In many cases, lenders can do this without human interaction through a form or online preapproval and your consent. Lenders need this info to ensure you meet their minimum credit score guidelines.
Get through underwriting, the appraisal and a home inspection.
Once you've found a home and are under contract, your lender will order an appraisal and send your file to underwriting. The appraisal ensures the home is safe, habitable and correctly priced.

Keep in mind that an appraisal is not a home inspection. Home inspections are often more thorough and can uncover potential issues appraisers won't find. A home inspection isn't typically required but is highly recommended.

While the appraisal is underway, the underwriter will verify the details of your loan documents. Be prepared for questions and document requests from the underwriter. The quicker you can furnish any requests, the faster you get to closing.
Sign and close on your new home.
The last step is signing reams of documents and getting the keys to your new home.