Omicron's Impact on Economy Derails Upward Trajectory of Mortgage Rates
February 3, 2022, 11:00 AM EST
2 MIN
U.S. mortgage rates were unchanged this week as the Omicron wave of Covid-19 infections derailed the upward trajectory of financing costs that began after the Federal Reserve started winding down its purchases of bonds containing home loans.
The average U.S. rate for a 30-year fixed mortgage was 3.55%, flat with last week, according to a report from Freddie Mac. A week earlier, rates hit a 22-month high of 3.56%.
Most major forecasters are projecting home-loan rates will increase throughout 2022 as the Fed withdraws support for the bond markets it put in place at the beginning of the pandemic to prevent a credit crunch. Some of that upward movement has been delayed as the economy grapples with Omicron, said Sam Khater, Freddie Mac's chief economist.
"The economy lost some momentum in January, leaving mortgage rates unchanged from last week and relatively flat for the third consecutive week," Khater said. "This stagnation reflects the economic impact of the Omicron variant of COVID-19, which we believe will subside in the coming months."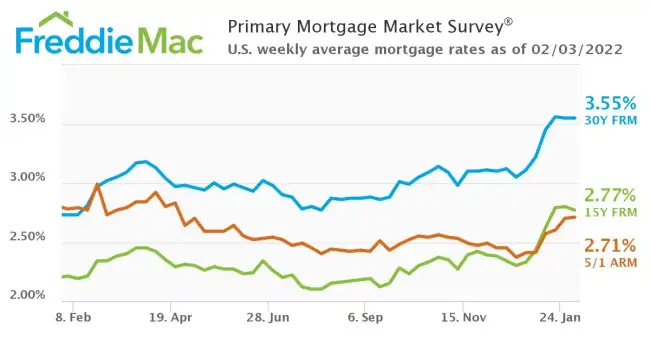 A surge in Covid-19 cases fueled by the hyper-contagious Omicron variant is causing job growth to slow and factory production to cool, according to an employment report last week and manufacturing data published on Tuesday. When the economy cools, money tends to move into the bond markets, which drives down the yields that are a benchmark for mortgage rates.
"First-quarter growth is likely to be particularly soft because the fiscal drag will be accompanied by a hit from Omicron," Goldman Sachs economists wrote in a note to clients. "Data indicate that spending on virus-sensitive services has declined sharply since early December."
On Jan. 16, the U.S. reached a seven-day average of 806,851 new cases of Covid-19, an all-time high that was triple the year-ago record when vaccines were not yet available, according to data from The New York Times. Since then, infections have come down to a seven-day average of 387,818 on Wednesday, still above the prior record peak of 259,616 on Jan. 8, 2021, according to the data.
The sideways movement of mortgage rates isn't expected to last long, according to Freddie Mac's Khater.
"As economic recovery continues going into the spring and summer, mortgage rates are expected to resume their upward trajectory," he said. "In the meantime, recent data suggests that homebuyer demand continues to be elevated as supply remains low, driving higher home prices."
About The Author:
Kathleen Howley has more than 20 years of experience reporting on the housing and mortgage markets for Bloomberg, Forbes and HousingWire. She earned the Gerald Loeb Award for Distinguished Business and Financial Journalism in 2008 for coverage of the financial crisis, plus awards from the New York Press Club and National Association of Real Estate Editors. She holds a degree in journalism from the University of Massachusetts, Amherst.