The Pros and Cons of a Conventional 97 Loan
June 22, 2023, 10:49 AM EDT
6 MIN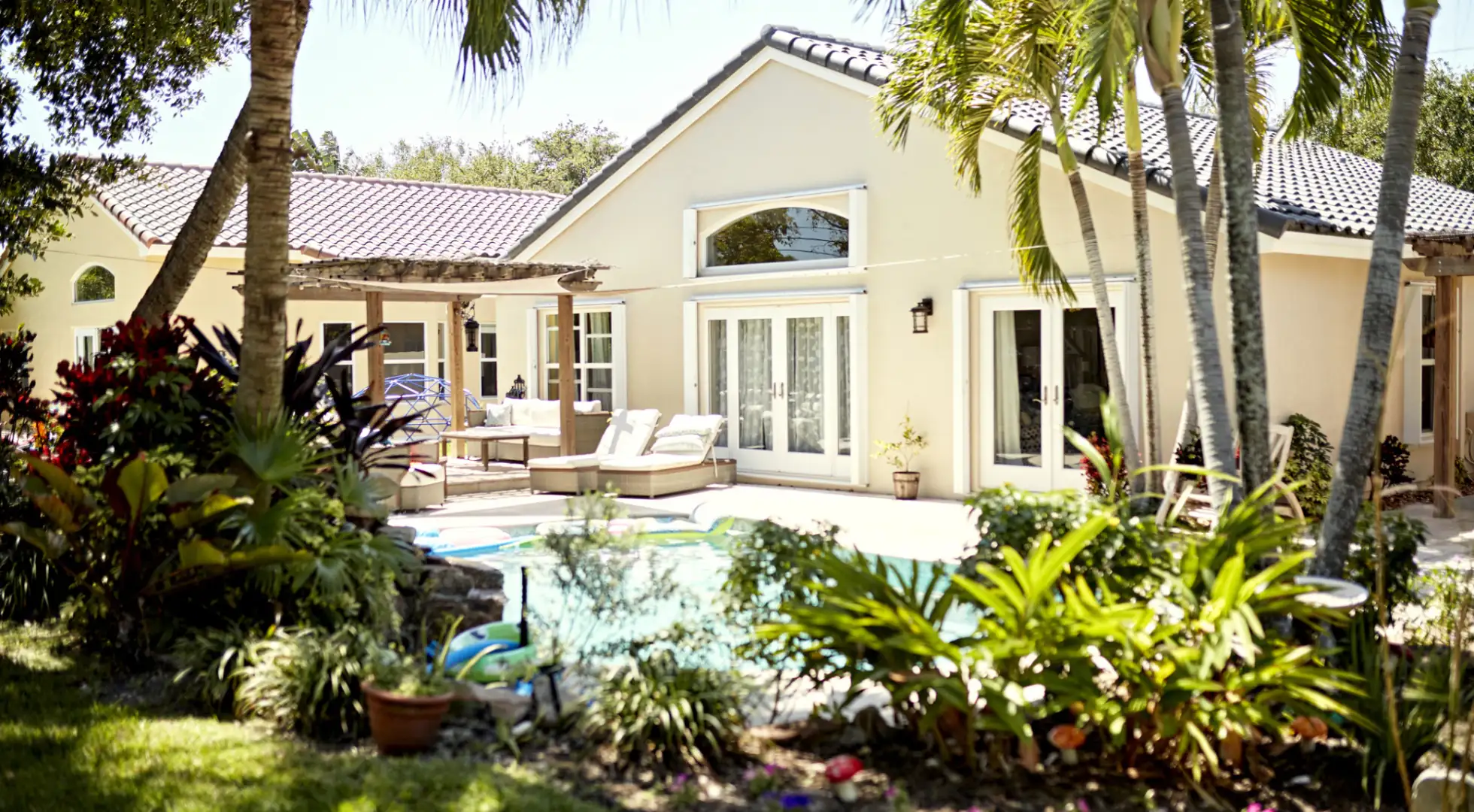 As a new homebuyer, you probably don't have a large down payment.
In fact, according to the National Association of Realtors, the typical first-time buyer puts down just 7%.
Fortunately, you have options, even if you have less than 5% down. The Conventional 97 loan is one such option, but is it a good idea? Let's find out.

Summary: Conventional 97 Pros and Cons
| | |
| --- | --- |
| Conventional 97 Pros | Conventional 97 Cons |
| Low down payment | Difficult qualification |
| Down payment assistance accepted | High mortgage insurance |
| Cancelable mortgage insurance | Higher rates than FHA |
| No upfront mortgage insurance | First-time buyer requirement |
| No income limits | 1-unit homes only |
| 620 minimum credit score | 5% down may be better |
| Generous loan limits | – |
Conventional 97 Pros

There's plenty to like about a Conventional 97 loan. For those wanting conventional financing rather than FHA, this loan offers serious benefits.
Low Down Payment
This is the most obvious "pro" when it comes to these loans. The down payment requirement is in the name: Conventional 97 loans require just 3% down. Add those together and you cover 100% of the purchase price.
Down Payment Assistance Accepted
You can use down payment assistance to cover the entire down payment if you wish. Down payment assistance is available from a variety of sources including:

Government agencies

Non-profits

Secondary loans

Regional housing authorities
You can even cover closing costs with down payment assistance funds, potentially letting you buy with little or nothing out of your own pocket.

Cancelable Mortgage Insurance
Many people don't like FHA loans because you pay mortgage insurance as long as you have the loan, even if you pay it down to 50% of the home's value!
Not so with conventional mortgage insurance, which is cancelable once you reach 22% equity in the home. For example, If the home is worth $100,000, mortgage insurance automatically falls off when you pay the loan down to $88,000.
No Upfront Mortgage Insurance Fee
FHA loans require an upfront mortgage insurance fee of 1.75%, or $1,750 for each $100,000 borrowed. Even though the fee can be rolled into the loan, it's still a large cost.
Conventional loans do not require upfront mortgage insurance, only the monthly kind. This sets you off on a better foot, giving you a lower initial loan amount.
No Income Limits
Some conventional 3% down loans like HomeReady allow you to make only 80% of your area's median income. But the standard Conventional 97 program permits borrowers at any income level.
620 Minimum Credit Score
Though it's a conventional loan, you don't need perfect credit to qualify. These loans require a 620 credit score to be eligible. That doesn't mean you will be automatically approved if you have this score, but it at least gives you a chance.
Generous Loan Limits
There's very little chance that loan limits will limit you at all when getting a Conventional 97 loan. You can get a loan up to $726,200 anywhere in the U.S. That means you can buy nearly a $750,000 home with 3% down.

Conventional 97 Cons
Despite its advantages, these loans aren't perfect. Here are the "cons."
Harder to Qualify
Because conventional loans aren't backed by the government like FHA, they are harder to qualify for.
You need low debt-to-income, typically less than 45%. This means your future housing payment plus all other debt payments are 45% or less of your gross income. That's $4,500 per month versus a $10,000-per-month gross income is the maximum you an pay toward your future house payment, student loan payments, auto loans, and all other debt payments.
Expect to need good or excellent credit, solid employment, and low debts to qualify.
Higher Mortgage Insurance Than FHA
While FHA mortgage insurance is government-subsidized, conventional loans with less than 20% down are insured by private companies. This is where the name "private mortgage insurance" or PMI comes from.
PMI is usually more expensive than FHA mortgage insurance, especially those with credit scores below 740. For example, someone with a 700 credit score would pay $138 per month in mortgage insurance with FHA, but $248 per month in PMI on a $300,000 loan, according to rates provided by PMI provider MGIC.
Higher Rates than FHA
Some online sources say conventional loans have lower rates than FHA. That's usually not the case. In fact, someone with a 670 credit score will pay about $100 more per month for the mortgage itself, and nearly $400 more per month including the more spendy mortgage insurance.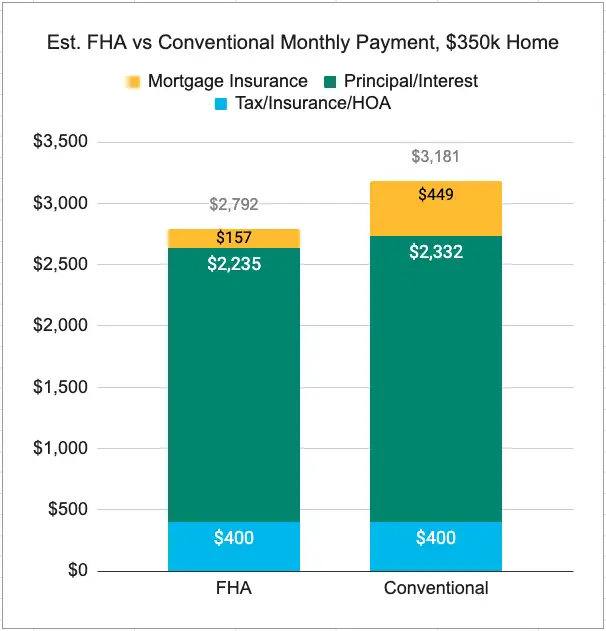 *All figures are estimates and will depend on your scenario. Not a quote or commitment to lend. Contact a lender for an accurate quote. Payment example based on $350k FHA loan at 6.6% rate and conventional loan at 7.016%, the average from Optimal Blue as of May 23, 2023. Standard FHA mortgage insurance of 0.55% per year. Conventional mortgage insurance estimate of 1.54% per year from MGIC based on 670 credit score with 3% down.
First-time Buyer Requirement
If you're not a first-time buyer, you'll have to either put 5% down or use an FHA loan. All Conventional 97 loans require at least one applicant to be a first-time buyer, meaning they haven't owned a home in the last three years.
1-Unit Homes, Primary Residence Only
If you want to "house hack" by buying a 2-4 unit home, living in one unit, and renting out the rest, you'll have to use FHA. Conventional 97 loans only allow 1-unit homes. Additionally, you have to live in the home as your primary residence. You can't use the program for vacation homes or rentals.
Other 3% Down Conventional Loans Might Be Better
If your income is 80% or less of your area's median, you may qualify for more flexible conventional loans.
For example, HomeReady allows you to use roommate income to qualify. Home Possible® allows you to contribute to your down payment via sweat equity.
You may also qualify for reduced mortgage rates and mortgage insurance when using these programs.
Consider putting 5% down
While conventional loans allow 3% down, you have more options when putting at least 5% down.
You could save hundreds per year with 5% down, thanks to lower rates and mortgage insurance. Additionally, the first-time buyer requirement no longer applies, and you'll be approved more easily with a high debt-to-income.
If you're denied a Conventional 97, or it seems too expensive, have your lender run a scenario assuming an additional 2% down.
Should You Get A Conventional 97 Loan?
In general, you may be a good candidate for a Conventional 97 loan if you have solid credit, steady income, and don't mind paying a bit more for cancelable mortgage insurance.
It's always a good idea to compare Conventional 97 versus a 5% down conventional and 3.5%-down FHA loan. Look at your options side by side to determine which one is best for you.

About The Author:
Tim Lucas spent 11 years in the mortgage industry and now leverages that real-world knowledge to give consumers reliable, actionable advice. Tim has been featured in national publications such as Time, U.S. News, MSN, The Mortgage Reports, My Mortgage Insider, and more.