Diving Into Mortgage Guidelines For Swimming Pools
November 9, 2023, 6:00 AM EST
6 MIN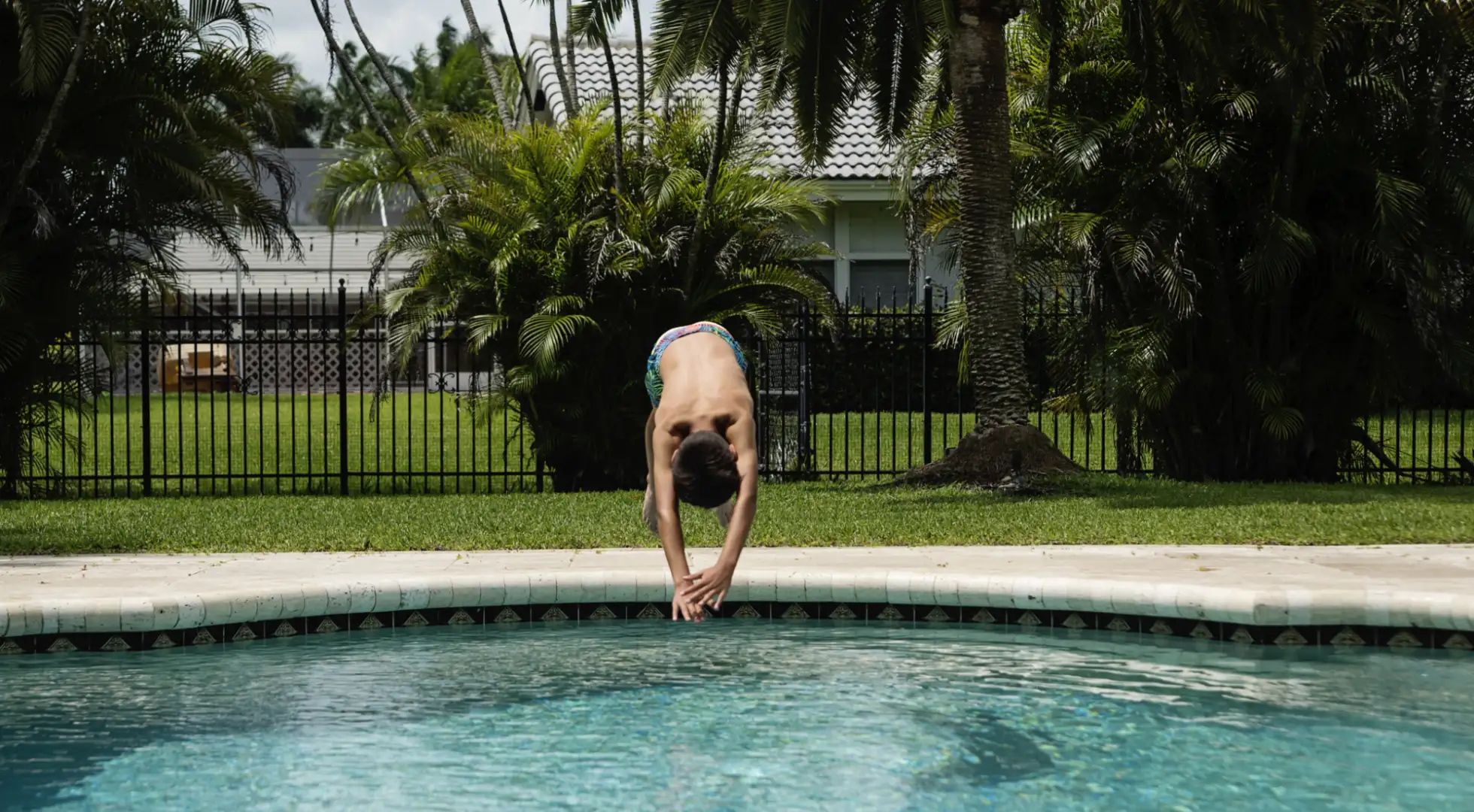 Homebuyers get divided when it comes to swimming pools. Many don't want the responsibility of regular upkeep, while others couldn't imagine buying a house without somewhere to swim.
If you're part of the latter, there's good news: getting a mortgage on a home with a swimming pool is usually no problem as long as it's in good working condition. Unfortunately, lenders typically take a stricter approach if pool repairs need to be made.
Above-Ground vs. In-Ground Pools
Let's dive right in and clarify one thing: lenders are generally only concerned about in-ground pools. In-ground pools are affixed to the property and are considered permanent structures. Above-ground pools, conversely, are semi-permanent and, in most instances, are deemed removable personal property.
For mortgage purposes, above-ground pools typically do not affect the home's value and get overlooked during the appraisal process. From here on out, we will be talking solely about in-ground pools unless otherwise noted.
Lender Requirements for Homes with Swimming Pools
Regardless of the type of loan you're applying for, nearly all lenders will take the same approach to homes with swimming pools: the pool must be in good, working condition. It will also need to adhere to local regulatory standards. These regulations sometimes include safety features such as a protective enclosure or pool cover.
An in-depth inspection of every facet of the pool isn't usually necessary. As long as the pool appears to be functioning correctly and the appraiser has no reason to believe otherwise, you shouldn't have an issue.
But if there is a known problem with the pool, plumbing, or mechanical systems, or if the person conducting the inspection believes there could be trouble, lenders will be reluctant to fund your purchase until the issue is resolved and the pool is certified as fully functional.
If a pool is drained, which can be expected throughout much of the year in many parts of the country, it's generally up to the appraiser as to whether to require it be filled and tested. This may not be deemed necessary if the pool and related accessories appear to be in satisfactory condition.
In addition to these broad standards, here are some of the specifics that each lending guideline details regarding homes with swimming pools:
Conventional Loans
Conventional lending guidelines don't explicitly cover swimming pool requirements. However, per Fannie Mae, any physical deficiencies (such as a non-functioning swimming pool) that could affect the property's safety, soundness, or structural integrity must be repaired for the mortgage to comply with secondary market standards.

FHA
Appraisers must report any noticeable defects in a noncovered pool that could make it nonfunctional. However, water that contains algae or is otherwise unappealing does not need to be cleaned if there's no evidence of other contamination.

VA
Lenders require appraisers to report any readily observable features that would render the pool inoperable, including unstable sides and other structural issues.
What's unique about VA guidelines is that they specifically allow for above-ground pools with decking and water filtration equipment to be assessed by the appraiser if they are regular and accepted in your area.
USDA
In the past, the USDA was very firm regarding swimming pools. The guidelines used to read, "Properties that include in-ground pools will not be financed."
While it was still possible to secure a USDA loan for a home with a pool, it was not valued during the appraisal process.
This would often cause issues because lenders were not willing to fund the property's total value, inclusive of the pool. Borrowers taking part in the USDA's 0% down program would be required to come out of pocket for the difference.
Thankfully, the USDA updated its guidelines in March 2022 to allow lenders to approve properties, including their swimming pools. Current USDA guidelines read:
"Existing properties that include in-ground pools may be financed, provided the home meets the other modest dwelling requirements and the pool has been inspected by a qualified inspector."
Note: This change only applies to existing properties. Newly built homes with pools are still not eligible for USDA loans.

Why Are Lenders Strict About Non-Functioning Swimming Pools?
A non-working pool can be a major safety hazard. First and foremost, empty pools pose a severe risk of injury from falling, especially if the area is not properly blocked off.
Plus, empty pools collect rainwater, which can be a breeding ground for disease-carrying mosquitoes. With their size, it can be challenging to prevent rainwater from accumulating. Also, untreated and unfiltered stagnant water can promote algae and harmful bacterial growth.
In addition to health risks, pools kept empty are prone to damage, which can further increase the cost to bring them up to working condition. Water counteracts the pressure put on the pool from the ground around it. This is one of the reasons why even winterized pools aren't drained completely.
When left empty for an extended period, pools may shift and crack, leading to problems with leakage, plumbing, and the surrounding decking. In some areas, pressure from groundwater can cause empty pools to "float" out of the ground.
What to Do When a Swimming Pool Doesn't Meet Standards?
Unfortunately, there isn't a lot that a homebuyer can do when a swimming pool doesn't meet standards. You can attempt to negotiate with the seller to get them to repair the pool prior to closing. If there is a minor issue, this may be an option.
However, the complexity and cost of some pool repairs – especially cracks or significant equipment failure – may discourage sellers from going this route. Most likely, if there was a simple fix or the seller was willing to invest the funds to repair the pool, they would have done so before listing the home for sale.
If you cannot reach an agreement to get the swimming pool up to working order, the other option is to negotiate to have it filled in. In most cases, this involves putting holes into the bottom for drainage, breaking the walls down at least a few feet, and then filling the entire space with dirt.
While this can be far cheaper than bringing a pool up to lender standards, it is still likely to be a considerable expense. Sellers may not be on board with the process because if you were to back out of the transaction at the last moment, they'd be stuck with a filled-in pool and on the hook to pay for it.
If an agreement can't be reached with the seller to repair or effectively remove the pool, you may want to consider walking away from the deal. If your purchase agreement contains a financing or home inspection contingency, you will have a good chance of keeping your earnest money deposit.
Mortgages for Homes With Non-Working Swimming Pools
Major pool repairs often come with a steep price tag. But if you're committed to a home with a non-working swimming pool and are willing to make the investment, you do still have options.
Several rehab home loans allow you to purchase a property and use the funds to renovate the pool once you close.
Conventional rehab loans: Fannie Mae's HomeStyle Renovation and Freddie Mac's CHOICERenovation programs let you repair outdoor buildings and structures, including swimming pools. In fact, these two programs also allow you to build a new swimming pool on a property.
FHA rehab: Another option is the 3.5%-down FHA 203(k) loan. This mortgage, along with the FHA Limited 203(k), allows borrowers to repair or remove an existing swimming pool. You can't, however, build a new swimming pool with an FHA loan.
With FHA loans, homes must meet Minimum Property Requirements established by HUD. These requirements are more specific than conventional guidelines from Fannie Mae or Freddie Mac. If there are any other issues with the home you're buying, you will want to take a look at the property appraisal requirements for each loan type.
Loans for Homes With Swimming Pools
If you're trying to purchase a home with a swimming pool, there are plenty of loan options out there. If the pool is fully operational, you shouldn't encounter any issues regardless of your chosen mortgage. But if you're buying a home with a pool that needs repairs, reach out to a lending professional experienced with home renovation and rehab loans to maximize your chances of approval.

About The Author:
Tim Lucas spent 11 years in the mortgage industry and now leverages that real-world knowledge to give consumers reliable, actionable advice. Tim has been featured in national publications such as Time, U.S. News, MSN, The Mortgage Reports, My Mortgage Insider, and more.