These Charts Reveal Whether FHA or Conventional Interest Rates Are Lower
June 9, 2023, 3:30 AM EDT
4 MIN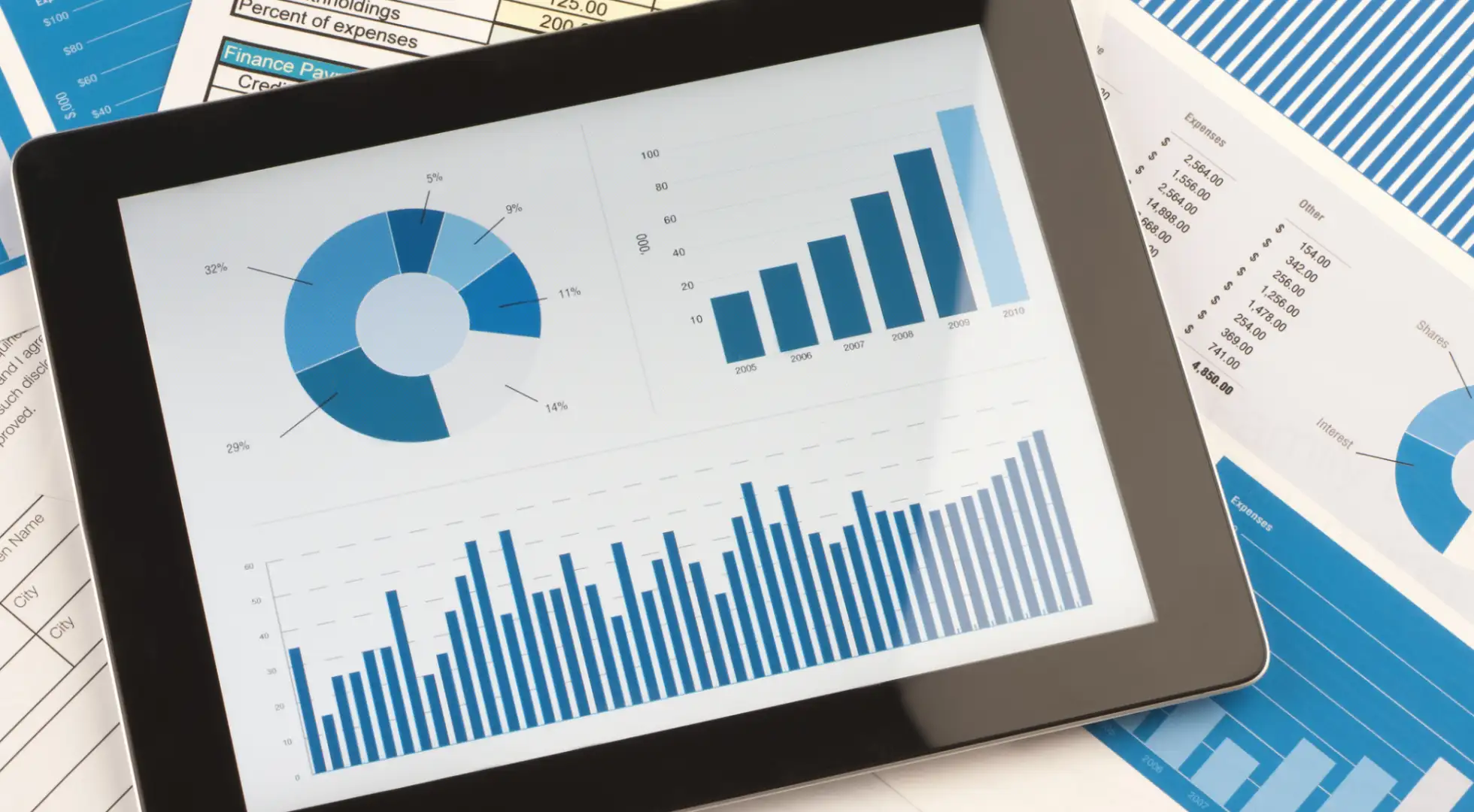 As a rule of thumb, you're going to get a much better mortgage rate using FHA if you have a lower credit score.
FHA vs Conventional Rates Under 680 Score With Less Than 20% Down
Over a 3-month time span, FHA consistently beat conventional rates for buyers with sub-680 credit putting less than 20% down according to Optimal Blue Mortgage Market Indices. Below, the pink line is conventional and the purple line is FHA.
The difference is dramatic. As of May 23, 2023, the average FHA rate was 6.60% and the conventional rate ("conforming" in the chart) averaged 7.016%. That's a difference of $83 per month on a $300,000 mortgage.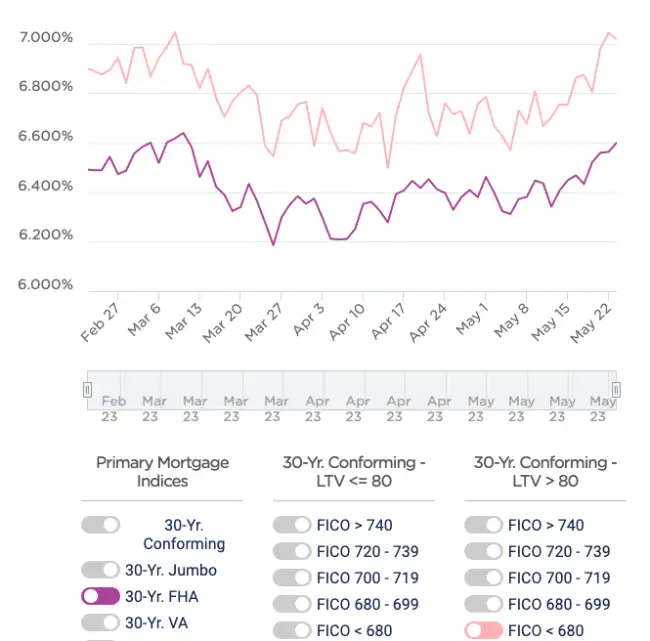 FHA vs Conventional Rates Over 740 Credit <20% Down
The story changes for those with credit scores above 740 credit. According to Optimal Blue, the average FHA rate for all borrowers on May 23, 2023 was 6.60% while the conventional rate average for those with 740+ credit and less than 20% down was 6.69%.
In fact, there was no material difference between FHA and conventional rates for most of the prior three months.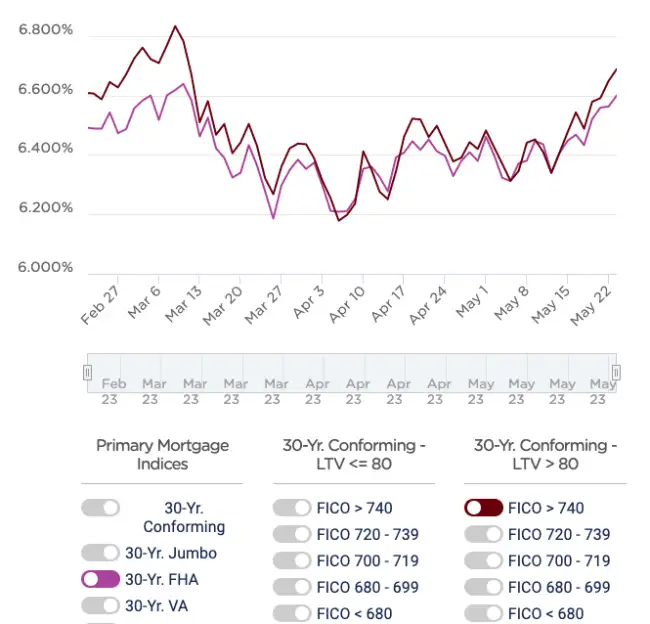 FHA vs Conventional Rates Over 740 Credit >20% Down
So far, you're probably surprised at how low FHA rates are. We'll get into why that is later. But what about if you have a large down payment?
Most people will choose conventional if they have a 20% down payment. This is because FHA always requires mortgage insurance, but conventional loans don't require it with a down payment of 20% or more.
But what do FHA vs conventional rates look like with good credit and 20% down? Below, the dark green line represents conventional loan rates with this criteria. Conventional rates finally beat FHA, but still only by a little.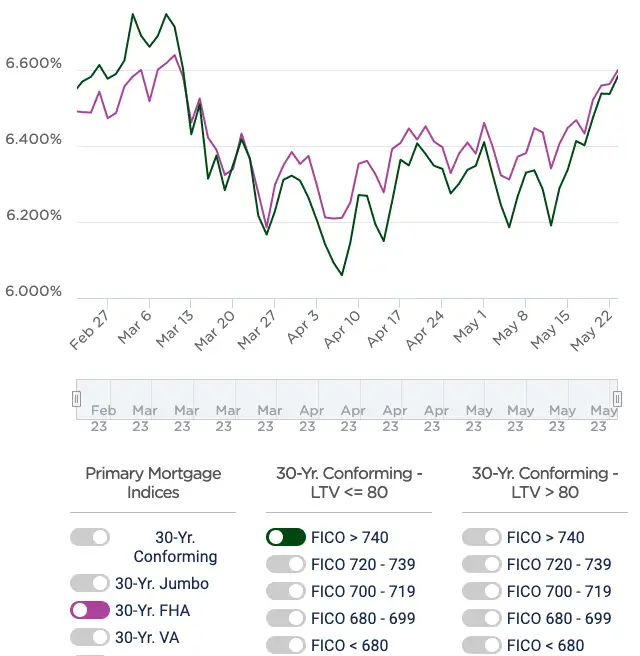 Why Are FHA Rates Often Lower?
Most people assume FHA rates are high since the program is designed for buyers with lower credit scores and down payments.
But the primary difference between FHA and conventional is that, if an FHA borrower defaults, the government steps in and reimburses the lender. Not so with conventional.
Because of this, lenders can offer lower rates and more lenient terms for FHA loans. Uncle Sam has lenders' backs.

Mortgage Insurance Is Another Big Factor
The heart of the issue is monthly cost. That's why it's worth looking at mortgage insurance as well.
Just like rates, FHA mortgage insurance costs are much lower than that of conventional for those with lower credit and down payments.
Here's a look at total costs for FHA vs conventional for a 670-credit-score buyer assuming rate averages for buyers with less than 20% down and credit below 680.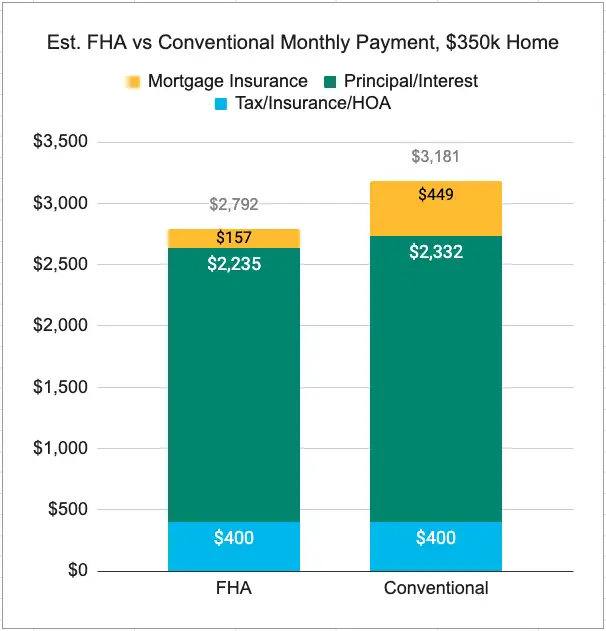 *All figures are estimates and will depend on your scenario. Not a quote or commitment to lend. Contact a lender for an accurate quote. Payment example based on $350k FHA loan at 6.6% rate and conventional loan at 7.016%, the average from Optimal Blue as of May 23, 2023. Standard FHA mortgage insurance of 0.55% per year. Conventional mortgage insurance estimate of 1.54% per year from MGIC based on 670 credit score with 3% down.

FHA Is Popular For Borrowers Without Perfect Credit
It's easy to see why those with average or lower credit scores choose FHA. In the above example, FHA is almost $400 per month cheaper than conventional due to its lower rates and more affordable mortgage insurance. This chart from Urban Institute shows that most people with credit scores below 700 choose FHA.
Note: "GSE" is another name for Fannie Mae and Freddie Mac collectively, two agencies that regulate most conventional loans.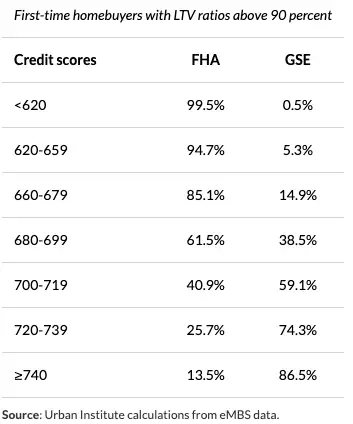 Image: Urban Institute
Bottom Line: FHA vs Conventional Loan Interest Rates
Surprisingly, FHA often comes with lower interest rates as well as overall monthly cost.
But if you have 5-10% down and great credit, conventional may be more affordable.
Credit score and down payment are just a few of the factors that determine which loan type is better for you. Everyone's situation is different. It's wise to get a quote from a lender for both scenarios and make your decision from there.
About The Author:
Tim Lucas spent 11 years in the mortgage industry and now leverages that real-world knowledge to give consumers reliable, actionable advice. Tim has been featured in national publications such as Time, U.S. News, MSN, The Mortgage Reports, My Mortgage Insider, and more.