I'm Buying a House and I Lost My Job. What Now?
August 8, 2023, 3:55 PM EDT
11 MIN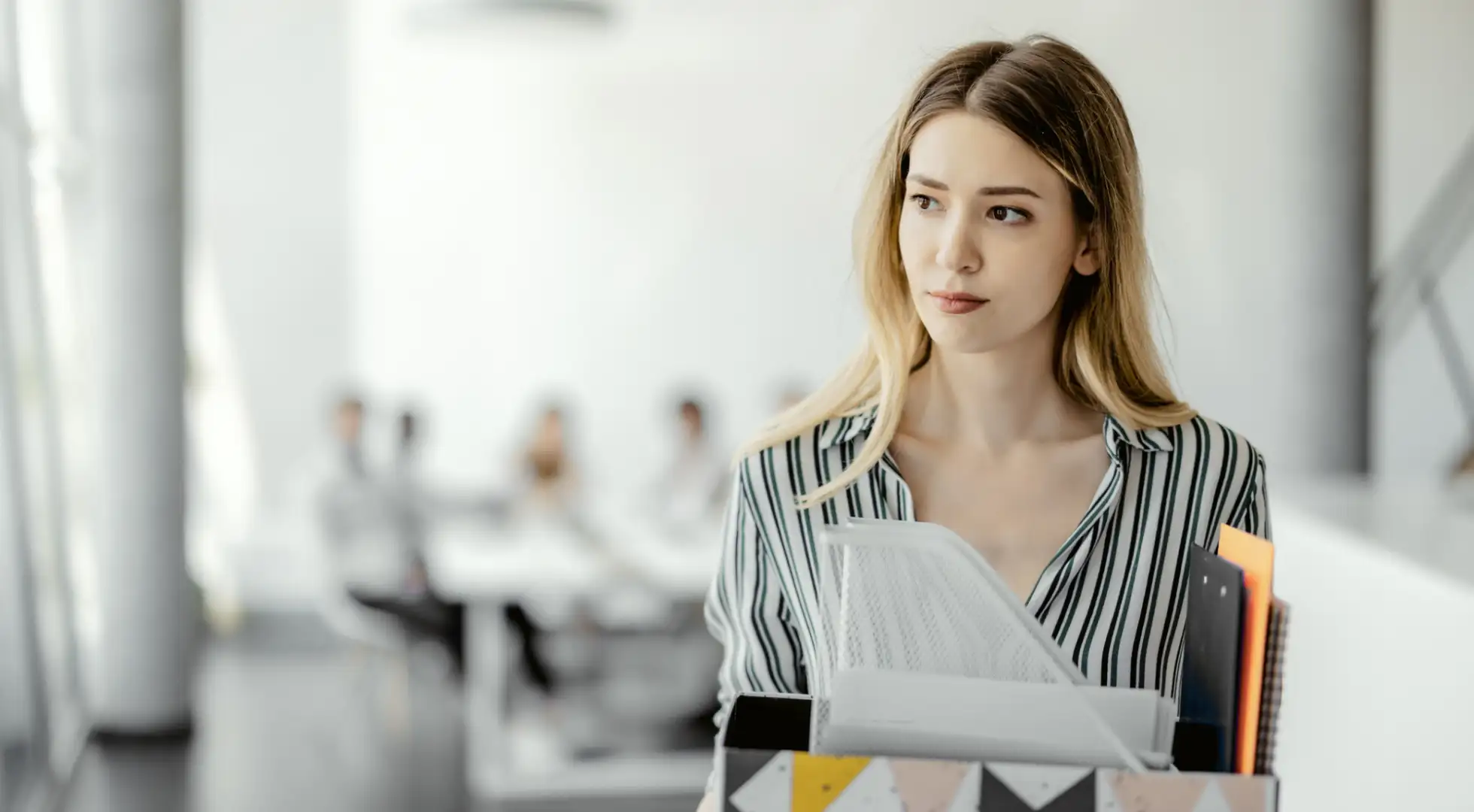 Losing your job can be a frightening situation that's full of uncertainty. This is especially true when you're in the middle of buying a home. A sudden loss of income can make it challenging to get a mortgage.
Thankfully, you may still be able to purchase your home. Here are some helpful strategies to help you overcome a job loss during the mortgage process.
What Do I Do First?
First, inform your loan officer or mortgage broker of the situation. This may sound counterintuitive, especially since losing your job can complicate the underwriting process.
But in reality, your lending professional will do everything possible to get you approved for your mortgage. They may even have other loan products better suited to your new situation.
Plus, most lenders do a verbal verification of employment (VOE), also referred to as a final VOE, a few days before closing (and sometimes the day of final loan funding). Fannie Mae and Freddie Mac require the verbal VOE on conventional loans be completed within ten days prior to funding. And it's not just conventional lenders, either. Final verification of employment is required before funding for FHA, VA, USDA, and nearly any other mortgage.
And even if you get lucky and your job loss slips through the cracks during verification, you'll still be required to sign a paper at closing certifying that your financial situation hasn't changed. Failing to disclose your loss of employment here could constitute mortgage fraud.

Reassess Your Financial Situation: Can You Still Make Your Payment?
Job loss is just a short-term setback for some buyers, especially those in high-demand fields. But if you anticipate the hunt for a new job to take a while, reassess your financial situation.
Some questions you should ask yourself include:
How long until I can anticipate reliable income?

Will I find a position at a comparable or higher pay rate?

Will my down payment and closing costs significantly impact my savings?

If so, how long can I pay my bills on the amount remaining?
If you're in a precarious place financially, you may want to wait until you've restarted employment and have a stable income before taking on any additional debt.
This may involve losing your earnest money. But in the end, losing that chunk of money is better than late mortgage payments on your credit report, or even a foreclosure.
If you push forward, you might spend tens of thousands of dollars to close, only to have issues making your first mortgage payments.
If you feel comfortable with your finances, not all is lost. According to National Association of Realtors data from May 2023, only 5% of residential contracts get canceled. That means 95% of purchases go through, even if 12% face a delayed closing. There's a good chance that an experienced mortgage lender can help you get your loan funded after losing your job, even if it may take a little longer than planned.

Alright, What Comes Next?
Lenders want you to have a stable and predictable income, but they recognize that borrowers change jobs. Fannie Mae lending guidelines even note that people who change jobs frequently yet earn consistent and predictable income can qualify for a mortgage.
The best thing you can do if you get laid off during the mortgage process is to get a new job as quickly as possible. If you submit an employment offer or contract from a new employer, your lender may be able to move forward with the loan.
Keep in mind that the following information is regarding conventional lending. If you are getting an FHA, VA, or USDA loan, or another loan type, guidelines could be different.
Here are certain scenarios and what the conventional loan lender will require.
You'll receive a pay stub before closing
If you have a new job lined up and will receive a pay stub before closing, your lender can accept your pay stub and employment offer as evidence of your income. Your new loan will be based on your new income, so any income reduction could derail the approval.
You'll receive the first pay stub after closing
If your first pay stub will come in after the closing date, the lender may still be able to proceed after a deeper analysis of your employment contract. However, this only works for purchase transaction loans that:
Are for a single-unit property

Will be the borrower's principal residence

Are calculated solely on the borrower's fixed base income

The borrower's new employer is not a family member or party to the transaction
It's important to note that your new employment start date must be within 90 days of closing.. You'll also need financial reserves sufficient to cover six months' worth of:
mortgage principal and interest

taxes

insurance

association dues
If you don't have six months of reserves, you can qualify with reserves sufficient to cover all of your monthly debts, including those related to the new mortgage, for the number of months between closing and your employment start date, plus one.
For example, if your closing is set for September 15th and your new job's start date is October 30th, you'll need to be able to cover three months' worth of total debt payments. A partial month is counted as one full month.
One last bit of advice for the job hunt: don't change careers. Lenders want to see steady employment within the same industry or role. And while you can qualify after transitioning from a traditional job to self-employment, you'll need a minimum of twelve months (although likely far more) of being your own boss before lenders will consider the income source.
Are You Out on Temporary Leave?
If you're only taking a temporary leave from work, your lender may be able to proceed with your loan. You would most often initiate this type of leave when you're not working because of something like a short-term medical disability or to care for a family member.
You'll have to submit written confirmation of your intent to return to work and documentation that you have a return date from your employer. The lender will also want proof of your temporary leave income amount and duration.
If you're returning to work by the date your first mortgage payment is due, the lender may use your regular employment income for calculation. This will be the first day of the month that begins after you've owned the home for 30 days.
For example, if your closing is on September 15th, your first mortgage payment would be due November 1st.
If you will not return to work by your first mortgage payment, the lender must use your lesser income level, which would generally be your temporary leave income. In that situation, you can supplement your income level with some of your verified liquid assets (namely, the reserves you'll have left over after closing) until your temporary leave is over.
Calculating how much supplemental income you can use is pretty straightforward. Here's an example:
| | |
| --- | --- |
| Regular Employment Income | $8,000 per month |
| Temporary Leave Income | $2,500 per month |
| Verified Liquid Assets | $40,000 |
| Funds Needed at Closing | $28,000 |
| Available Liquid Reserves | $12,000 |
| First Mortgage Payment Due | November 1st |
| Work Return Date | February 1st |
| Months of Supplemental Income | 3 |
| Supplemental Income | $12,000 / 3 = $4,000 per month |
| Total Qualifying Income | $2,500 + $4,000 = $6,500 per month |
It's worth noting that your total qualifying income can't be higher than your regular employment income. Still, that should be fine if you were previously qualified at your standard income level.

What if I Was Furloughed or Temporarily Laid Off?
Unfortunately, if you were furloughed or temporarily laid off from your job by your employer without pay, even if you have a return date, temporary leave conditions do not apply. If you're receiving unemployment benefits, your lender probably won't be able to count them since they're typically short-term income sources.
The exception is for seasonal workers with at least two years of consistent income. In this case, lenders can count the unemployment income associated with seasonal employment.
But if you're on a temporary layoff and are being paid, even at a lower rate, there's still hope. Like with temporary leave, your lender may be able to use your furlough pay for calculations. But expect your borrowing ability to be recalculated based on your temporary income if it's lower than your regular employment income.
Consider Using a Co-Borrower
Suppose you've legitimately lost your job and don't think you'll be able to find a comparable or better-paying position in the immediate future. In that case, your next best option is to consider taking on a co-borrower.
This would allow you to use your co-borrower's income to qualify for your mortgage, although any existing debt they have would count towards the debt-to-income ratio (DTI). You want to aim for a DTI below 43%, although lenders consider 36% optimal.
If your co-borrower makes less than your previous income or has existing debt obligations of their own, you may qualify for a smaller mortgage than before. In this scenario, you might have to come up with a larger down payment or even revisit your housing options altogether.
Remember that your co-borrower's credit score can impact closing costs and interest rates. Figures are generally based on the lowest credit score among the borrowers. If your co-borrower has sufficient income but poor credit, you might still qualify but will likely need to bring more to closing and make larger monthly mortgage payments.
You Don't Need a Job To Get a Mortgage
At the end of the day, you don't need a job to get a mortgage. The main thing that lenders are concerned with is whether or not you can repay your loan. If you have sufficient liquid assets or cash on hand, you may qualify for an asset depletion mortgage despite your job loss.
As asset depletion loan is one where lender divides your total assets by 240 and uses this as your qualifying income.
Other Types of Income That Can Qualify
Your lender likely helped you identify other income sources that may be useful in qualifying for a loan. But if your application was based solely on regular employment earnings, here are just a few of the other types of income that may come in handy:
Long-term disability income

Foster-care income

Social Security or Veterans Affairs payments

Other government retirement benefits or annuities

Retirement distributions (such as from your 401(k) or IRA)

Alimony or child support

Trust income

Royalty income
With some alternative income sources, you may need to prove that you'll continue to receive the income for at least three years after closing.
Get an Extension
Even in the best-case scenario, a lost job during the mortgage process will mean more paperwork and more time required by the loan underwriters. If your lender can rework your loan, it won't happen overnight. This is why you must be upfront with your mortgage broker or loan officer as soon as possible after being laid off.
The extra time requirement might be OK if you're far from your closing date. But if your purchase is expected to close soon, you may need to ask for an extension from the seller.
Have your real estate agent explain your reasoning for needing the extra time. Depending on local market conditions, the seller may not want to wait for a new buyer if it looks like you'll be able to move forward after a short delay. As mentioned earlier, with 12% of home closings facing delays, it's a pretty ordinary request.
What Happens If I Can't Qualify?
If you've lost your job, you have some options to help you still obtain a mortgage:
Securing new employment

Taking on a co-borrower

Putting together a larger down payment

Examining alternative mortgage products
But if you've exhausted your resources and still can't qualify for your loan, you'll probably need to walk away from the deal. If you have a financing contingency (or, less commonly, an employment contingency) in your real estate contract, you may be able to keep your earnest money deposit.
Talk with your Realtor or real estate attorney to discuss your options regarding your purchase contract if your existing financing has completely fallen through.
Is There Anything Else I Can Do To Get a Loan?
Ultimately, if your lender can't proceed with your loan and you feel that your financial situation is sound enough that you're still comfortable taking on a mortgage, the best thing you can do is apply with other lenders.
Not all lending professionals offer the same products, and some may be able to find a mortgage solution that works with your temporary unemployment.

About The Author:
Tim Lucas spent 11 years in the mortgage industry and now leverages that real-world knowledge to give consumers reliable, actionable advice. Tim has been featured in national publications such as Time, U.S. News, MSN, The Mortgage Reports, My Mortgage Insider, and more.