About 432,000 Mortgage Holders Exit Forbearance in October's First Half
October 22, 2021, 1:00 PM EDT
2 MIN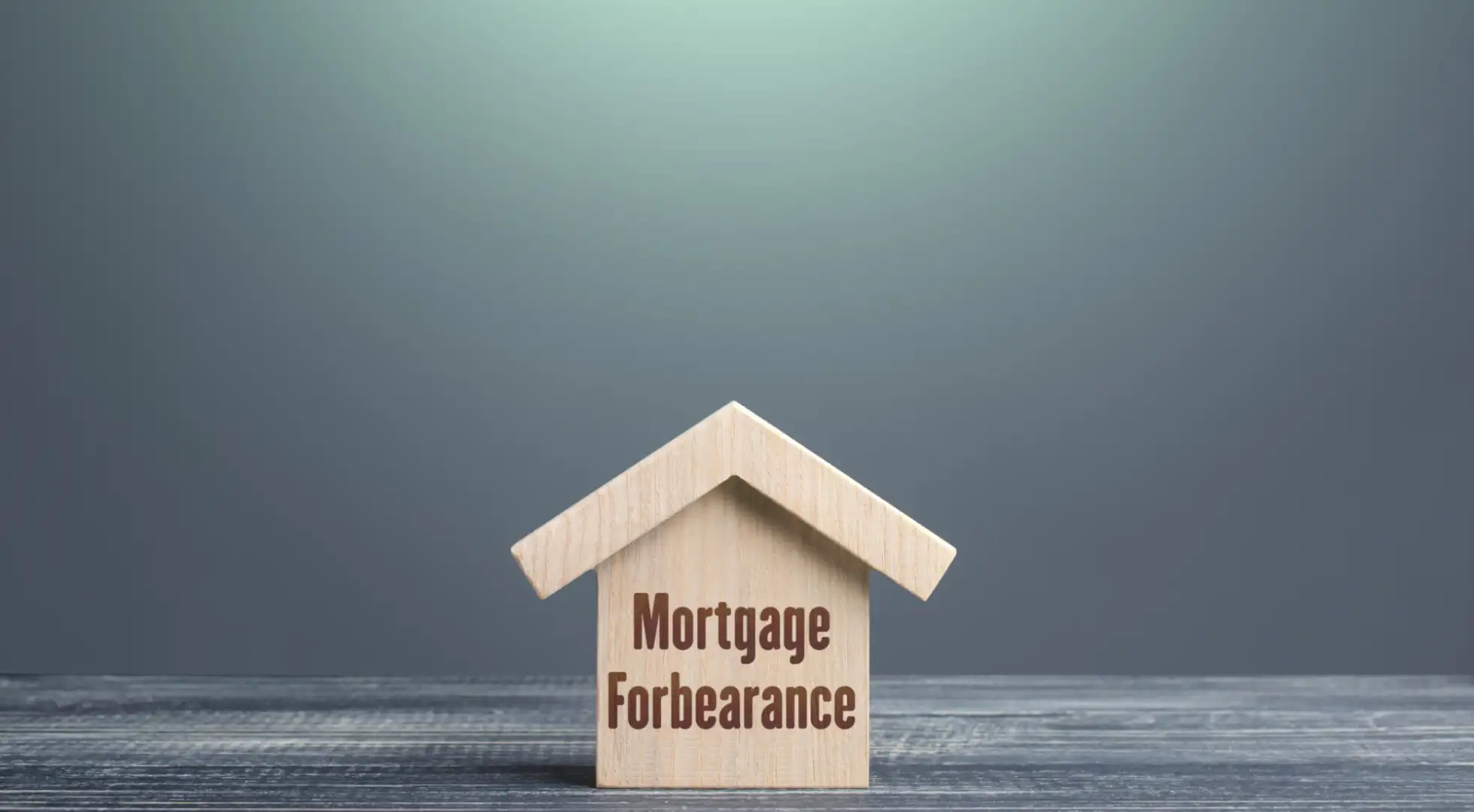 About 432,000 homeowners left Covid-19-related mortgage forbearance plans in the first 19 days of October, making it the largest month in terms of exit volume in a year, Black Knight said in a report on Friday.
That left 1.24 million mortgage holders in forbearance plans, representing 2.3% of all active mortgages, the lowest since the beginning of the pandemic, the report said.
Borrowers were allowed to pause mortgage payments during the Covid-19 pandemic as part of the CARES Act passed by Congress in March 2020. The provisions were aimed at preventing the massive displacements that occurred after the 2008 financial crisis when more than 10 million American families lost homes through legal seizures or forced sales.
"We've still got another 12 days left in the month," Black Knight said in a statement that accompanied the release of the report. "With more than 280,000 plans with October month-end review dates, opportunity exists for additional declines through the first few weeks of November."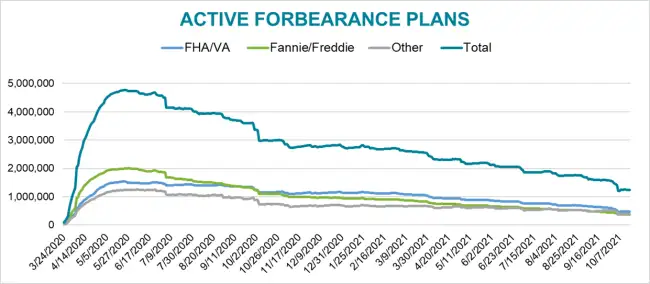 The CARES Act gave borrowers up to 12 months of paused home-loan payments if they suffered a financial hardship, such as a job loss, because of the pandemic. In February, the Biden administration provided up to six additional months for some borrowers who entered forbearance on or before June 30, meaning all forbearance plans will end by Dec. 31.
Broken out by investor type, 373,000 home loans backed by Fannie Mae and Freddie Mac remain in forbearance, out of a total of 27.9 million so-called conforming mortgages outstanding, the report said.
About 474,000 mortgages backed by the Federal Housing Administration and the Veterans Administration remain in forbearance, out of 12.1 million home loans backed by the government in Ginnie Mae securities.
About 392,000 mortgages held in private-labeled mortgage bonds or in bank portfolios remain in forbearance, out of 13 million active home loans, the report said.
As loans exit forbearance, U.S. foreclosure filings are rising, according to an Oct. 14 report from real estate data firm ATTOM. Lenders started the foreclosure process on 25,209 properties in the third quarter, up 32% from the previous quarter and up 67% from a year ago, the report said.
However, even with the gain, the rate remained near historic lows, said ATTOM, the parent company of RealtyTrac.
"It's picking up significantly, which is what we expected when the government's foreclosure moratorium ended," said Rick Sharga, a RealtyTrac executive vice president. "But it's still way, way below normal levels of foreclosure activity."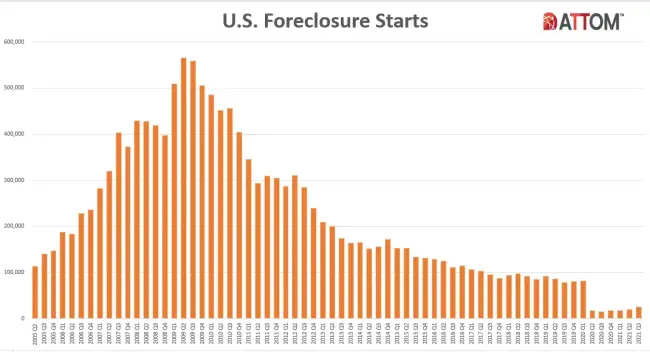 About The Author:
Kathleen Howley has more than 20 years of experience reporting on the housing and mortgage markets for Bloomberg, Forbes and HousingWire. She earned the Gerald Loeb Award for Distinguished Business and Financial Journalism in 2008 for coverage of the financial crisis, plus awards from the New York Press Club and National Association of Real Estate Editors. She holds a degree in journalism from the University of Massachusetts, Amherst.