How To Finance A 4-Season Sunroom Addition
October 6, 2023, 7:55 PM EDT
8 MIN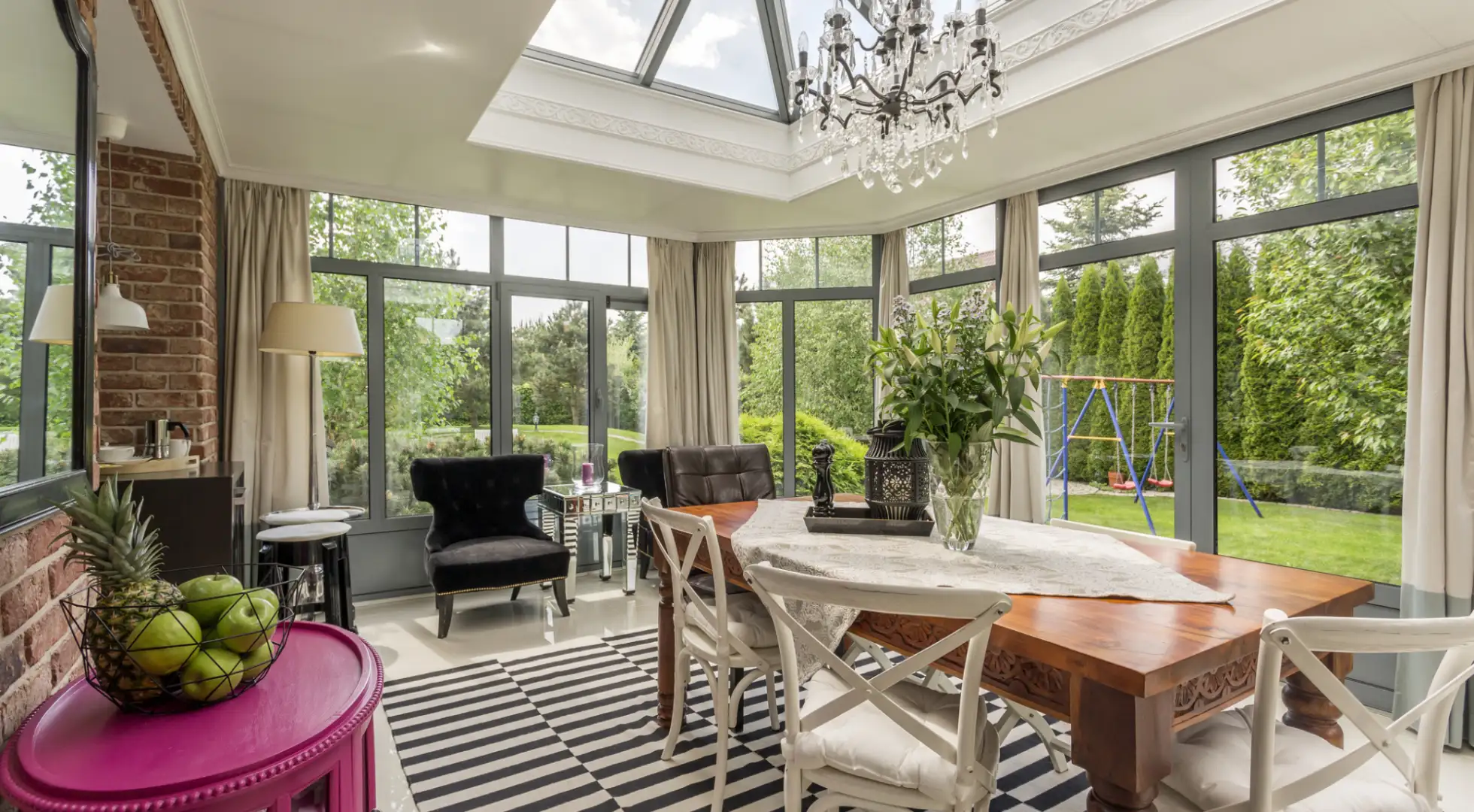 A four-season sunroom room can transform your home from a dark, enclosed box to a light-filled retreat that feels connected to the outside.
While most people would love a four-season sunroom if all it took was a snap of the fingers, there are plenty of other considerations, cost likely being the biggest one.
If you decide to pursue this goal, how should you pay for it?

How Much Does a 4-Season Sunroom Cost?
As with any major home improvement, cost can vary widely depending on your vision and your home as it stands now.
As a rule, building an all-season room will be more expensive than one that does not need to be insulated against the elements.
The following estimates are from Patios4All:

Pre-fab 3-season sunroom: $8,500 starting price

Built-on-site 4-season sunroom: $45,000-$75,000
However, other sites estimate costs at more than $100,000, so the above is by no means an upper limit to the expense.
Financing a 4-season room
Because most people don't have cash to pay for a sunroom outright, many look to finance the project. Here are the best ways to do that.
Dealer Financing
Some four-season room dealers offer special financing if you use their service. Some offer one-year same-as-cash, low rates, 20-year terms, and no closing costs. However, keep in mind that if you want to use a local builder, it may not offer financing. Additionally, the interest paid on this type of financing is probably not tax deductible since it's an unsecured loan, much like a personal loan.
Pros
Low interest rates

Fast closing

Low/no closing costs
Cons

Not tax-deductible

May need great credit for the best terms

Limited availability

May not be able to use a local builder
Home Equity Line of Credit
For someone with plenty of untapped equity in their home, a home equity line of credit, or HELOC, is a solid solution. You can close a HELOC quickly with little or no closing costs.
Some HELOCs are available up to 100% of your home's value, potentially giving you access to adequate funds even if you've only owned your home for a few years. HELOC interest is tax deductible as long as you use the funds for home improvement. However, keep in mind that this is a type of mortgage, so your home is at risk if you fail to pay.
Pros
Doesn't affect your primary mortgage

Likely tax deductible

Close quickly

Low or no closing costs
Cons

Variable interest rate

Need equity in the home to qualify

Your home is the collateral
Cash-Out Refinance

For those with a lot of equity in their homes needing a sizeable amount of cash may choose a cash-out refinance.
A cash-out refi replaces your existing first mortgage with a new, larger mortgage. You take the proceeds as cash, usable for any purpose, including a sunroom or other home improvements. Interest on the new loan is likely tax deductible as long as you use the proceeds to improve the home. Keep in mind, though, that you will lose your existing first mortgage rate since this loan will replace your primary mortgage.
Pros
Fixed interest rate

Tax deductible if used for home improvement

Get a large amount of cash

Payments spread out over 30 years
Cons
Lose your current mortgage rate

Takes 30 days or longer to close

High closing costs
Personal Loan
A personal loan is not secured to the property. It's approved based on your income and credit level. Because there's no collateral, rates are often higher and you can find with a HELOC or cash-out refinance. However, you can close quickly with very little closing costs. If you're eager to start on the project, you could start with a personal loan and pay it off later with longer-term financing.
A personal loan likely won't work for larger projects, though, since maximum loan amounts are usually somewhere in the $25,000-$50,000 range.
Pros
Fast closing

Not secured by the home

Low closing costs
Cons

Low maximum loan amounts

High interest rates

Shorter loan terms
Credit Card
A credit card is likely the simplest way to finance a sunroom addition, although it comes with risks.
With credit card rates at their highest levels since at least the early 1990s, you could pay thousands in interest if you don't reduce balances quickly.
Additionally, some contractors add a fee of around 3% to pay for credit card transaction fees. Many prefer a simple check.
Also, keep in mind that running up your credit card balance above 30% of your available limit can hurt your credit score.
Still, a credit card is a good option if you are primarily buying materials to do some of the work yourself and paying off the balance as you go.
Pros
No approval process if you already have credit cards

Easy to use at construction and hardware stores

Use and pay off balances as you go
Cons
Risk of paying thousands in interest

Extra fees when paying contractors

Could hurt your credit score
Sunroom vs 4-Season Room vs All-Season Room vs 3-Season Room
When it comes to sunrooms, definitions are important. What type of addition you choose could affect its usefulness.
Sunroom: A catch-all term for any room that offers lots of sunlight, typically found on the exterior of a home.
3-season room: These rooms are sunrooms usable spring through fall. They are not insulated nor meant to be heated and cooled. These sunrooms are the most affordable type.
4-season room: This is an insulated and climate-controlled room that offers the natural light of a sunroom but is usable all year; an extension of the home.
All-season room: Another term for four-season room.
Whether you want a room to use all year or just during certain seasons will influence your decision to add a 3- or 4-season room.
4-Season Sunroom Pros
Besides the obvious – abundant natural light and a connection to the outdoors – what are the benefits of adding a four-season room to your home?
Increased home value: You won't make back the entire cost of a sunroom when you sell your home, but it will increase its value. HomeAdvisor estimates a 49% return-on-investment.
Avoid moving: If you need a bit more space or just a change of scenery – literally – a 4-season room can increase satisfaction with your current residence. Avoid moving costs and homebuying headaches – and keep your low mortgage rate.
Health benefits: According to the Nation Library of Medicine, sunlight helps serotonin production, leading to better sleep and positive mental outlook. Easy access to natural light, even in winter, truly does make you feel better.
Great for entertaining: Social families will enjoy a space to gather, whether that's a party, family reunion, or a casual drop-in.
Increased square footage: A 4-season room physically expands the footprint of the home. And, the windows make it feel even larger than it is.
4-Season Room Cons
Cost: Budgets can run $100,000 or more for an insulated, climate-controlled space.
Building permit: Depending on local codes, you may need to endure the hassle of acquiring the proper building permits for the job.
Must have space on the lot: Not all homes are compatible with a sunroom addition. You must have adequate yard or deck space.
Increased energy costs: While sunrooms can add the warmth of sunlight in the winter, they can also be blazing hot in the summer. Glass tends to be less efficient at keeping hot and cold outside compared to thick walls. Those facts combined with increased square footage means your energy bills will likely rise.
How Will You Finance Your 4-Season Room?
No matter how you choose to finance your sunroom, you'll likely be glad you did.
Find a great lender for the financing you choose so you can be on your way to a home that you will enjoy returning to. If you're planning on a home equity line or cash-out refinance, inquire at the link below.

About The Author:
Tim Lucas spent 11 years in the mortgage industry and now leverages that real-world knowledge to give consumers reliable, actionable advice. Tim has been featured in national publications such as Time, U.S. News, MSN, The Mortgage Reports, My Mortgage Insider, and more.