How To Get A High-Balance Conventional Refinance Up To $2,095,200
November 3, 2023, 7:09 PM EDT
5 MIN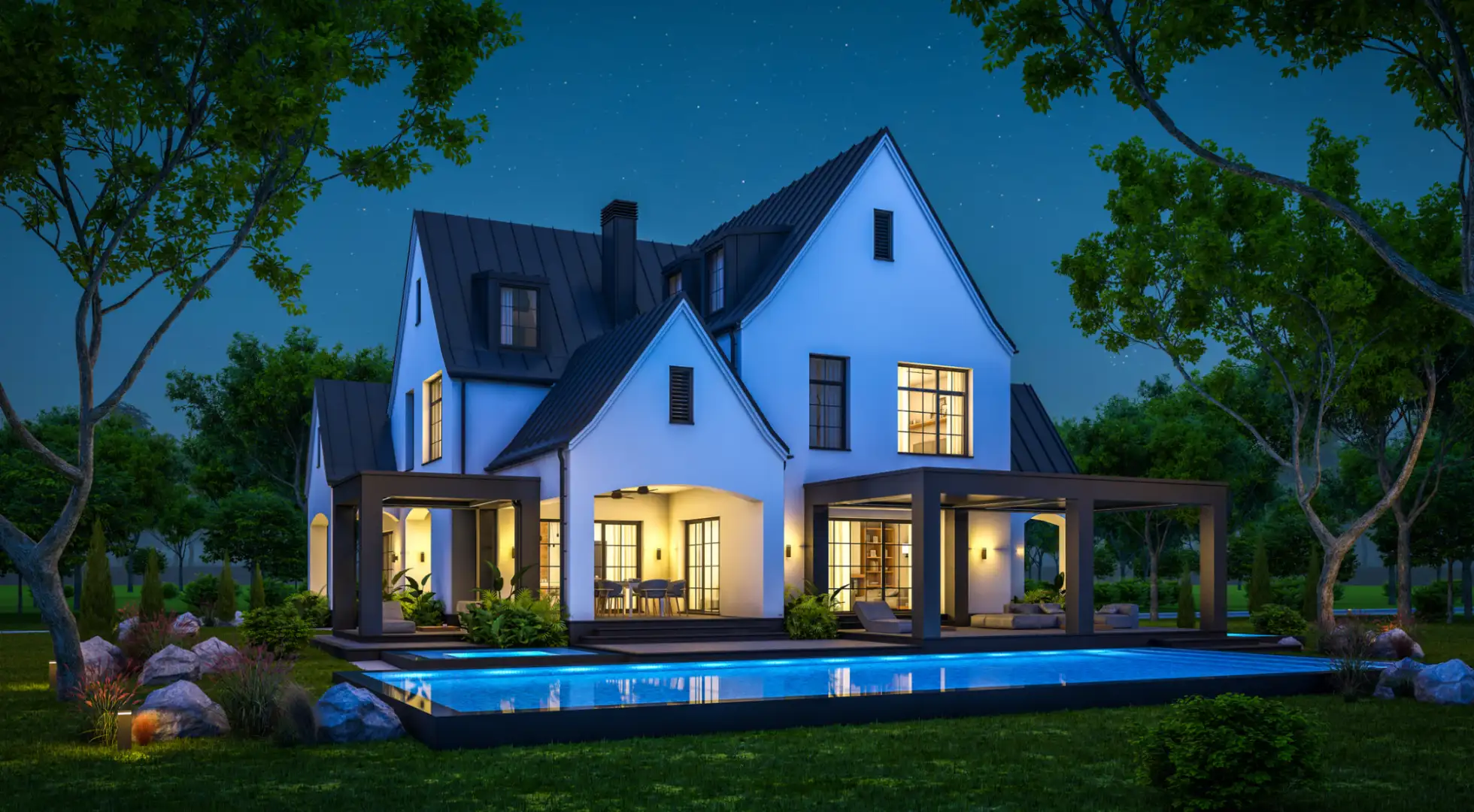 If you have a loan larger than $726,200 in 2023 (or about $754,500 in 2024), you might consider a high-balance conventional refinance, also known as a super-conforming loan.
"High-balance" refers to loan amounts between $726,201 and $1,089,300 -- or even higher for multifamily properties -- allowed by Fannie Mae and Freddie Mac in high-cost areas.
These increased limits give you additional options when refinancing.

Why Use a High-Balance Conventional Refinance?
Some homebuyers used a high-balance conventional loan to purchase and are now looking to refinance.
Others used a non-conventional loan type to acquire a home, such as a jumbo loan, hard money loan, or non-qualified mortgage (non-QM).
These alternative loans are fantastic initially, especially for those with "outside-the-box" scenarios.
But when your credit improves, you rehab the house, or are otherwise eligible, you probably want to convert that loan to a fixed conventional loan. Doing so can give you:

A better rate

A rate that won't adjust upward

No pre-payment penalty

A 30-year term

Predictable payments
Luckily, you can get a $1 million conventional loan refinance or more in some cases.

High-Balance Conventional Refinance Guidelines
To qualify for a high-balance conventional refinance, you need to meet the following:

The loan amount must be within local limits where the property is located

You have a traditional credit score (no non-traditional credit reports or scores)

Minimum 620 credit score

Maximum 45% debt-to-income ratio in most cases

Be approved by Fannie Mae's computerized underwriting system, called DU (no manual underwriting)

Pay mortgage insurance for loan-to-values over 80%

Meet loan-to-value maximums as detailed below
Maximum Loan-to-Value (LTV) for 1-Unit homes

| | | |
| --- | --- | --- |
| | No-cash-out refi | Cash-out refi |
| Primary residence | 95% | 80% |
| Second home | 90% | 75% |
| Investment property | 75% | 75% |
LTV maximums are lower for 2-4 unit properties, so check with your lender when applying.

Keep in mind you must meet the above LTV maximums after the refinance. For example, you have an existing $990,000 loan and your closing costs will be $10,000. You need a $1 million loan and a home value of about $1,055,000 to accomplish this refinance to remain at a 95% LTV without paying money out-of-pocket.

High-Balance Refinance Rates
Fannie Mae charges about 0.25-0.50% higher rates for loans above $726,200.
If your loan is just above the standard limit, you might consider paying more into the refinance to bring your first mortgage down to around $726,000.
Keep in mind that using a second mortgage to do so is counter-productive: Fannie Mae and Freddie Mac charge higher rates for loans when you have a second mortgage than if you were merely in high-balance territory.
Where to Find Your Maximum Loan Amount
Your maximum loan is determined by the property location. There are currently 163 areas in the U.S. that allow for loans between $726,201 and $1,089,300. Some examples are Seattle, Denver, and Boston.
The best way to find your maximum loan is by searching your property address on Fannie Mae's Area Median Income tool. While this tool is primarily used to look up area income levels, it also shows maximum loan amounts.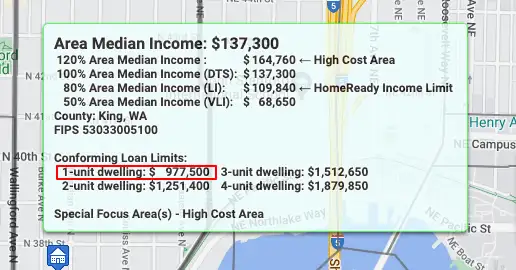 Image: Fannie Mae. Red box added for emphasis.
This particular area allows a conforming loan up to $977,500 for a 1-unit home, well above the $726,200 standard limit. This is the maximum refinance loan amount for the area.
What If Your Loan Is Bigger Than The Area Maximum?
Remember that conventional high-balance limits refer to the refinance loan amount, not the property value or existing loan balance.
For example, you have a $1.2 million hard-money loan that needs to be paid off soon. You could use a conventional loan to refinance up to the local loan limit, $1 million as an example. You would just need to pay $200,000 plus refinance costs at closing.

High-Balance Cash-Out Refinance
You can also use increased conventional loan limits to pull cash out of your home.
On a 1-unit primary residence, you can take a new loan up to 80% of your home's value.
For example:
$1 million home value
$700,000 existing loan
$800,000 new loan
You can use the refinance proceeds for any purpose.
High-Balance Plus Multifamily: Very High Conventional Loan Limits
If you own a 2-4 unit property, maximum conventional loans get very high. In the most expensive locales in the country like Los Angeles and New York City, you can get a downright massive conventional loan.

| | |
| --- | --- |
| Unit count | Highest Cost Areas |
| 1-unit | $1,089,300 |
| 2-unit | $1,394,775 |
| 3-unit | $1,685,850 |
| 4-unit | $2,095,200 |
It's not common knowledge, but still true, that you can get a Fannie Mae- or Freddie Mac-sponsored loan of over $2 million in some cases.

However, beware of LTV limits. The maximum LTV is 75% on a no-cash refinance on a 4-unit investment property. The home would need a value of $2.8 million to get the maximum conventional loan amount.
Is a High-Balance Conventional Refinance A Good Idea?
A large conventional loan can get you out of a high-risk loan type or otherwise improve the terms of your loan.
Speak to a lender to find out if this program might work for you.

About The Author:
Tim Lucas spent 11 years in the mortgage industry and now leverages that real-world knowledge to give consumers reliable, actionable advice. Tim has been featured in national publications such as Time, U.S. News, MSN, The Mortgage Reports, My Mortgage Insider, and more.